Last Updated on January 4, 2023 by XDA Team
If you are looking to download the Qualcomm IMEI Repair Tool, you have come to the right place. Here we will let you know the use and function of the Qualcomm IMEI Repair Tool and how to use that tool to change your IMEI. Keep reading!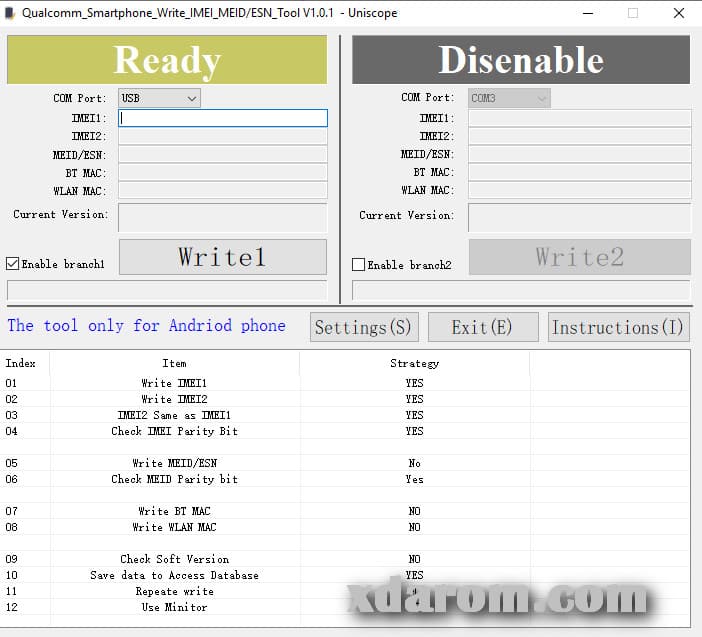 First of all, note that this tool can write new IMEI to those devices that are powered by Qualcomm only. Sometimes we may need to change the IMEI number of our phone for a variety of reasons. Be it restoring old IMEI or flashing a new IMEI on your device, you need to use this tool. Though the task of repairing IMEI is tough, it is made possible with the help of the Qualcomm IMEI Repair tool. Let's know a little bit about this tool and its features before going to download and use this tool.
What is Qualcomm IMEI Repair Tool
Qualcomm IMEI Repair Tool, also known as Qualcomm IMEI SN Write Tool is a small-sized brought to you by Uniscope. You can use this app to update, modify or rewrite IMEI numbers for any of your Qualcomm tablet or smartphone. This application saves your time and sweat from going into seeking tricks that might not work for your device.
You May Also Check:
Salient Features of Qualcomm Repair Tool
Portability:
Yes! You have heard it right! You can use this tool when you are on-the-go. It is not required to install it every time you use it. Once you install it, you can use it always. Just run the app, enter the IMEI and connect your device- that's all you need to start the process of writing a new IMEI on your Qualcomm device.
Range of Support:
Uniscope has designed this tool in a way so that it supports multiple smartphones and tablets that use Qualcomm. The Support List Of Qualcomm IMEI Repair Tool includes MSM8209, MSM8909, MSM8916, and MSM8592. This tool can be used to write MEID or ESN, WLAN and Bluetooth Address along with writing IMEI.
Write Dual IMEI:
As most of the Qualcomm devices come with dual sim nowadays, you can use this tool to update both the IMEI numbers. The identification and changing the IMEI numbers for both the SIM was not simple before the making of this tool. You can choose 'Write IMEI1' for the first IMEI on the main card and 'Write IMEI2' for the second IMEI on the sub card.
You Can Also Like: Download Qualcomm USB Driver
Write MEID:
Do not underestimate the power of this tool. Its capability is not limited in only repairing and writing IMEI. It can go beyond and do something more for you. If your Qualcomm comes with CDMA function, it means you can also go for IMEI MEID or ESN update with the help of this tool.
Download Qualcomm IMEI Repair Tool For PC
If you have got a PC with Windows Operating System, you can probably download this tool. This tool suits perfectly for Windows XP, Windows Vista, Windows 7, Windows 8, Windows 8.1 and Windows 10 (x86 or x64 bit) without any issues. The file size is less than 2 MB which has made it easy to download even if your internet connection is very slow. Here goes the link for the Qualcomm IMEI Repair tool. Click on the link below, and download and install the tool on your PC.
How to Use Qualcomm IMEI Repair Tool
It is very easy to use this tool. Here are the steps you can follow to use Qualcomm IMEI Repair Tool for you:
Click on the .exe file named after this tool that you have just downloaded from the above link. You will get this downloaded on the compressed folder. Unzip the tool first in case it is necessary.
After opening the app, click on the Settings button of the app. Enter ustest to log in on this tool.
If you are using a smartphone with a single sim, click on 'Write IMEI1'. However, in case you are using a phone with dual sim, you should also click on 'Write IMEI2'. Then click on the 'OK' button at the end of the page.
Now connect your Qualcomm device with the PC to proceed on. Select 'USB' as COM Port.
Look at the end of the page and click on 'Write 1'. Once you do this, you can input your desired IMEI on the box given above. When you do it, you are done.
Download Qualcomm IMEI Repair Tool
Final Thoughts
So, we hope that you now know how simple and easy it is to change the IMEI of your Qualcomm devices. It unlocks a new level of experience with new IMEI. However, we would suggest you keep a backup of your real or original IMEI before you use this tool and follow the steps mentioned above.