Last Updated on May 26, 2023 by XDA Team
If you don't know what Samsung Odin is, we have got you covered today. Odin is a utility software developed by Samsung, the most popular flashing tool among Samsung smartphone users.
Initially, it was used internally in Samsung service centers to flash the stock firmware. But it has leaked and people can download for free now.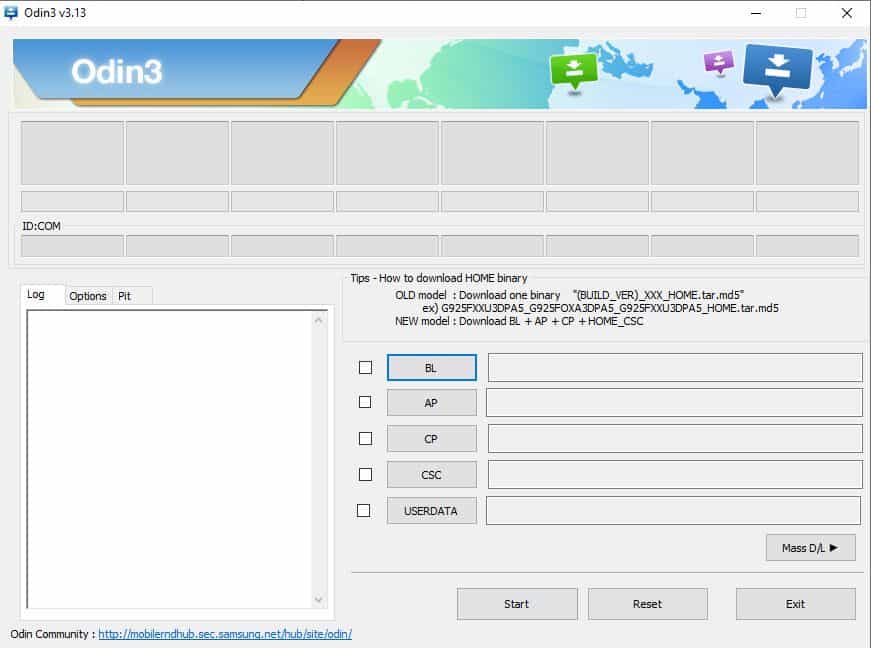 When you are a Samsung Android phone owner, and you like to indulge yourself in playing with your stock sitting, then this is a must-have tool for you.
The latest version of Odin 3.14.4 can be used to flash Custom ROM and Gain Root Access. It can also be used for unbricking Android devices.
Here, we have put together important information on a different version of Odin and detailed guidelines for you to use it safely.
What Is Odin 3.14.4 Samsung Flash Tool?
The Odin latest version 3.13.1 is the most feature-packed android flashing application for Windows-based computers. This amazing tool is created for troubleshooting all the Samsung Android phones like the Samsung Galaxy smartphone series and the Samsung Galaxy tablet series.
Though, it was originally developed for Samsung officials to use in their service centers. Due to growing popularity and immense versatility, it was leaked for public use. Now, people can use Odin download site to get the latest leaked version of the official application free of cost
Download Samsung Odin Flash Tool All Version
The Feature Of the Samsung Odin 3 Flash Tool
The latest Odin comes with a lot of features compared to versions released previously. Naturally, when a version of the application is released, it is likely to have various software bugs, compatibility issues, navigation error, lack of features and so on. Developer tries to fix all that bugs, add features on their next release to increase usability and performance. Therefore, Odin 3.13.1 is the most complete and stable version to use.
Here we try to put together some of the features Odin 3.14.4 comes with. Let's have a look-
How to Use Samsung Odin Tool V3.14.4 ?​
First, you need to download Samsung Odin. You can do that from Odin download site.
Then download the latest version and install it. If it's a zip file? just extract the files using WinRAR.
If you don't have Samsung USB drivers already installed, this is a good time to do it.
After installing all the drivers, restart your computer to make sure there is no operation going on.
When you are ready, restart your Samsung device and enter into Recovery mode.
After that, connect your device with the computer via USB cable and run the odin.exe file.
Select your desired flashing file or Samsung stock firmware in the Odin tool.
Then hit on the start button to start the flashing process.
Be patient for the moments to complete the flashing process.
When flashing is complete, the Odin tool shows success indication in green color.
Finally, the device will reboot automatically and begin the device configuring process.
You can download Odin tool of different versions from the Odin download site. There are over 30 versions of Odin tool on the site. Some popular Odin version facts for your convenience.
Samsung Odin 3.12
The Odin 3.12 was first released in 2017. Over 848,851 of people downloaded this tool to troubleshoot their Samsung devices. Unlike any other Odin version, all the functionality of Odin 3.12 is almost the same. Developers normally fix any bugs and compatibility issues in their latest version.
Feature of Samsung Odin 3.12
Flash Stock Firmware.
Flash Custom Firmware.
Gain Root access.
Flash recovery partition.
Samsung Odin 3 V3.10​
Another good version is Odin 3.10.It was first released in 2016. The file size was merely 800kb. The download count for this file is 44,886. For that time, it's still impressive. Over 15,000 people rated it 4.5 out of 5. Although it had a great rating, it had some bugs and performance issues with various models of Samsung devices.
The Feature of Samsung Odin 3.10
Flash Stock Firmware.
Flash Custom Firmware.
Gain Root access.
Flash recovery partition.
Samsung Odin Tool V3.07​
One more popular version of Odin tool is Odin 3.07. You may not believe the number of people downloaded this exact version. It says a whooping 500,000+ on the Odin download site.
The Feature of Samsung Odin 3.07
Flash Stock Firmware.
Flash Custom Firmware.
Gain Root access.
Flash recovery partition.
The most used Odin among all versions is v3.09. it has 4.8 reviews from over 5,155,217 users. You can download Odin v3.09 from the Odin download site.
Frequently Asked Questions (FAQS)
1. How to backup your Samsung smartphone?
Answer: There are a few ways you can back up your Samsung device. You can use the Samsung cloud or Google drive to create data backups. Therefore, you can use either of those or both to backup your data and restore them as you see fit.
2. How to enter into Recovery Mode?
Answer: Recovery Mode is also known as Odin Mode and Download Mode. Depending on your Samsung device model, you can enter into Recovery mode in the following ways. Simply hold down these buttons while restarting your device.
For Samsung devices with Bixby key: Power button + Volume Down button + Bixby button.
For Samsung devices with no Bixby key: Power button + Volume Down Button + Home button.
For Samsung devices with no Home or Bixby button: Power button + Volume down button + Volume up button.
3. What is the BL, AP, CP, and CSC means in Odin application?
Answer: Brief details of what those options mean-
BL – It means Bootloader, BL option allows you to flash the bootloader files with an extension like TAR and.MD5.
AP – It means Android Partition. Where the main operating system files are located
CP – It represents your modem.
CSC – It refers to Consumer Software Customization or Country-Specific Code. This is used to send customized features to consumers based on geographical location and carrier.
Conclusion:
You might hear the word Odin in some other places. Yes, you are right! It's from Norse mythology. Odin is the ruler of Asgard and all father to Norsemen. In a humorous sense, the Odin tool is a lot like all fathers to Samsung Android devices.
Samsung always keeps a strong lid on its official software by providing a locked bootloader and firmware. That way most people don't feel comfortable making any modifications to their system. But that didn't stop people from trying such things.
Odin is hands down the best tool to load software on to your Samsung devices whether it is official stock firmware or third-party customized firmware.
We strongly hope this comprehensive guide has helped you understand the Odin 3.13.1 tool better and make you confident enough to troubleshoot any issue by yourself from this day forward.