Last Updated on February 26, 2022 by XDA Team
At present, the demand for third-party apps or apks is on the rise. Not all essential apps are found on Google Play Store. As a result, people are forced to use the apks on their android phones. Besides, some paid apps have free apks. So people are dragged to those free products automatically.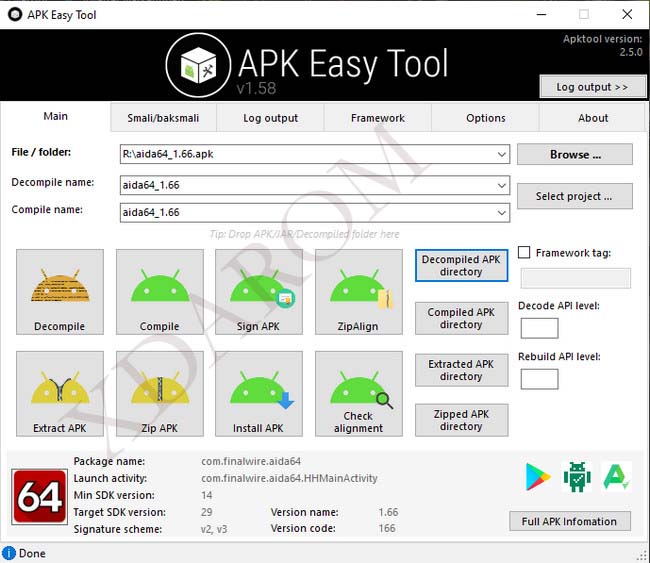 Although the apks are available for almost all apps, managing the apks is a bit tough. They need to be downloaded first and then installed. So managing, compiling, and decompiling the files is a bit tricky and a hassle too!
But there's good news for you. With the APK Easy Tool, you can easily do the managing, compiling, decompiling tasks on your phone. This lightweight and user-friendly application lets you conveniently organize and use the apks.
What is APK Easy Tool?
The Easy Tool APK is a Decompile Compile Tool that allows the users to manage, sign, install, uninstall the apk files of the apps. Due to this, the apk files don't remain scattered, and you can easily identify them.
The apk easy tool is a GUI software or application. For better usability, developers have kept the application lightweight and user-friendly.
The Latest Version of APK Easy Tool is absolutely free, and you can use it for both business and non-business purposes.
This apk file managing software is primarily built for mid-level app management experts. The main goal was to make the file managing and compiling tasks faster. Also, people who don't want to use the CMD can try this apk managing software.
Features of APK Easy Tool
Alongside counting, compiling, decompiling, and extracting, you can also make changes to an apk with the help of this apk managing tool. Besides, this software also lets you know about the details of an apk file, minimum SDK version, and the codes as well.
Here are the features of this APK management tool-
Compilation& Decompilation:
You can seamlessly compile apps or software with the help of this tool. Alongside this, this software offers decompilation functionality as well. This tool can compile and decompile JAR, DEX, and all types of apk files.
Sign and Compress:
This apk and file management tool helps you to sign an app. On top of that, you can easily cancel its installation or operation at any time. The app has an in-built extracting feature that lets you extract the apk files.
However, you can also use other extracting software like WinZip or WinRAR.
Bug Finding:
This software or application has a log search option. Using this function, you can find any bugs or glitches on the downloaded apks. As a result, this will help prevent virus attacks on your phone, and you can fix the errors by yourself too!
Drag & Drop:
The drag and drop feature of the apk easy tool is convenient. With the drag & drop function, you can move the apk files. Also, you can manually select different files and move them to a new folder or place. 
File Details and Information:
Want to know the information or full details of an app file? Well, you can do this with the help of the apk management tool that we're talking about. Besides this, an appt dump function of this software provides an external link to the Google Play Store.
DownloadAPK Easy Tool App
The apk easy tool is an excellent GUI app or software. Its wide range of functionality lets you work on multiple platforms. You already learned the top features of this app management, compiling and decompiling apps, right/ Moreover, the easy interface and free cost make this one of the best compiling and apk management apps.
This tool has a dedicated tab menu that displays all the functionalities and features. So you're getting on-screen instructions as an added advantage.
 This apk management tool has a clean and user-friendly UI as well. Developers have kept the UI as simple and clean as possible for better usability. So you won't find any unnecessary junk!
Lastly, talking about compatibility, the APK Easy Tool Latest Versionis compatible with most Windows versions. It has versions available for 32 and 64-bit as well. So compatibility of this file management and programming tool won't be an issue here!
How to Download& Install  APK Easy Tool: APK Easy Tool Tutorial
---
Firstly, download APK Easy tool on your computer from the link given above.
After that, you'll find both 32 and 64 bit installer options. So choose the one which you prefer.
Then you'll see an install or setup file on the downloaded directory. Install the easy tool like any other software.
When the installation begins, follow the on-screen instructions.
Finally, the apk will send a successful installationpop-up when the installation is done.
Does APK Easy Tool have Drag u0026 Drop Feature?
Yes, the apk easy tool has the drag feature. You can use this feature to drag & drop files easily and speed up the process.
Is APK Easy Tool Free?
Yes, the apk compiling, decompiling, and management tool, aka APK Easy tool, is absolutely free and available online.
Does apk Easy tool support .abb format?
The apk easy tool supports only the android files and packages.
Can I Reset App Settings?
Yes, it's possible to reset the app settings on apk easy tool. To reset the app settings-
·        launch the apk management app
·         go to the general section from the menu.
·        And there, you'll see a reset button.
·        Clicking on it will reset the settings and return to default mode.
Conclusion:
If you're looking for the best android app management, compiling, and decompiling tool, no one comes close to the APK Easy Tool. This one application can perform several crucial tasks. You can even extract an apk with this tool as well.
The APK easy tool is also supported on multiple platforms and different Windows versions. So download this app management tool and customize your files on the move!