Last Updated on May 7, 2023 by XDA Team
You may wonder whether it's possible to unlock Xiaomi Bootloader Without having any Mi Account or not! It's possible and we will give you a complete guide on Xiaomi Unlock Bootloader Without Mi Account.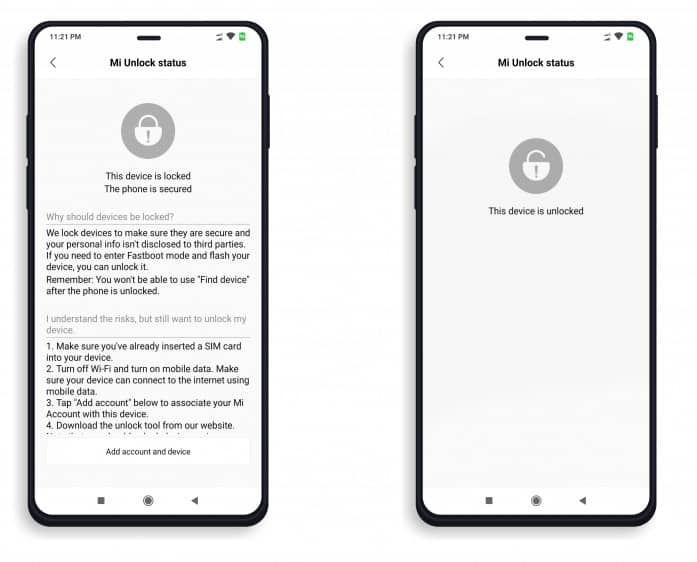 From this article, you will know what is the Bootloader and how can you unlock it without creating a MI account on your Xiaomi phone.
Unlock Xiaomi Bootloader Without Official Mi Unlock Tool with No Waiting Time
First of all, we should know what the Bootloader is! It's a program that is almost similar to computer BIOS. Whenever you power on a device, the Bootloader starts to activate the right OS (operating system).
Now you may think that Bootloader is only a reserved feature of Android! But the fact is, it can find out all the devices with the same operating system, whether it's a smartphone, a PC or tablet and so on.
Xiaomi Company locks their device Bootloader for some specific reasons. They lock Mi device Bootloader so that users may not be able to install any other custom ROM ( Random Access Memory) or modify any previously installed operating system.
If you succeed in unlocking the Bootloader, you will be able to install any unauthorized software. But remember that, this action of unlocking will void the warranty of this device i.e. Mi center will no more assist you.
How To Unlock Bootloader On Xiaomi Devices?
First, we would like to describe the steps of unlocking the Bootloader with a Mi unlock tool.
Step 1: Enable the Developer option of your Xiaomi Mi phone.
Now, Go to Settings options of the phone and then go to Additional Settings>Developer Options.
Now, enable these 2:
1. OEM Unlocking

2. USB debugging ( ADB)
Step 2: Connect to your mobile internet or WiFi and go to Developer Options>Mi unlock status.
Click on add Mi account with the device.
Login option will be displayed. You have to log in to your Mi account. A success message will be shown. If not, do the same steps repeatedly.
Step 3: Now, power off the phone and simultaneously press the power button & volume down button.
Fastboot Screen will be displayed. Now, plug in the USB cable.
Step 4: Download & install the Mi Unlock App to your PC and sign in to the same Mi account you have used in the Mi phone.
Step 5: Press the Unlock button of the phone and then follow the instructions of the software.
Xiaomi Bootloader Unlock Without mi account step by step
---
We have described the unlocking process with a Mi account. Now let's try to learn the method of Xiaomi Unlock Bootloader Without Mi Account.
First Method
This process will work for Xiaomi Mi Devices that are not attached to any Mi account.
Step 1: First, download and install Minimal ADB Fastboot on your PC.
Step 2: Press the volume down button plus the power button to boot the Mi phone to fastboot mode.
Step 3: Open tool and plugin the phone.
Step 4: Write fastboot devices in the command prompt of the tool.
Now, press Enter to check if the phone is connected.
If the connection is ok, write fastboot flashing unlock and press Enter again.
After that, write fastboot flashing critical_unlock and again press Enter.
Step 5: Now, long-press the power button to manually Reboot the phone. Or you can write "fastboot reboot system" and hit Enter to do the same job done!
We hope that your bootloader is unlocked successfully!
Note: If this method doesn't work in your phone, it indicates that you have to take help of Xiaomi Mi Unlock Tools.
This method is also simple and you will get the permission automatically. You will not require to fill up any application form. Even it will not make you wait for any SMS.
Second Method
We have provided the link of unlocking tool in the next section. You have to download it from there. You should have all the necessary drivers downloaded & ready to use in your PC before you start to unlock the Bootloader. And you must be using the official MIUI ROM.
Once you get the unlock approval, what will be your next steps. We have already mentioned this method in the previous section.
We hope that you have already learned the process of unlocking the Xiaomi Mi Bootloader with a Mi account.
We are giving a summary again:
Enable developer option by tapping, again and again, MIUI version in Settings > About phone
Login to Mi account under Mi Unlock Status.
login to the Mi Unlock Tool with the same Mi account.
After login, click on the right gear icon and update Mi Unlock Tool and the USB driver. You must have the latest version of them.
Power off the phone and enter bootloader mode.
Connect the phone to PC with a USB cable while you are logged into the unlock tool in PC.
Click Unlock and wait for about 10 seconds to complete the process.
While you are adding the Mi account in Mi Unlock status, you may get these types of error messages: "Couldn't verify, please wait for a minute or two", or " No network". These happen, when you use older Mi Devices.
You have to post a thread in the bug sub-forum and add the bug report that you will find in the Mi Unlock Tool category.
We will recommend you to search if there is the same error thread already posted for your device. If not, then click on the Confirm button for posting the thread to avoid spamming.
The List Of Bootloader Unlock File
For downloading the bootloader Unlock Tool, you may proceed with the following link:
Xiaomi Bootloader Unlock: https://en.miui.com/unlock/
Mi Max 2 Bootloader Unlock File.
Mi Max 3 Bootloader Unlock File.
Mi 8 Lite Bootloader Unlock File.
Mi 9SE Bootloader Unlock File.
Redmi Note 7 Bootloader Unlock File.
PocoPhone Bootloader Unlock File.
Redmi S2 Bootloader Unlock File.
Redmi 6 Pro Bootloader Unlock File.
Redmi 7/Y3 Bootloader Unlock File.
Redmi Note 5A Bootloader Unlock File.
You have to log in to the Mi account and download the Mi Unlock Tool from this website. Then you can start the unlocking process, but the unlock tool will display a waiting period first.
Final Words
We tried to describe the unlocking method of the Xiaomi Bootloader with and without a Mi account in a simple way. I hope that you have done the job accordingly and successfully unlocked the Xiaomi Bootloader.